Let's find out the latest Malaga airport news, in case you are planning a flight. There has been a lot of airport news because of the recent Covid-19 pandemic, but we are going to focus on the news from 2022 onwards.
Malaga Airport Soars to New Heights with Advanced Approach System
Malaga Airport is making remarkable strides in enhancing its air traffic capacity with the introduction of a cutting-edge approach system. This innovative redesign of aircraft arrivals and departures leverages state-of-the-art satellite-based navigation technologies.
This forward-thinking initiative catapults Malaga Airport to the forefront of approach systems, ushering in an era of increased terminal efficiency. Notably, back in 2014, Malaga joined an elite league of the world's most modern airports in adopting satellite navigation systems for landings. Aeropuertos Españoles y Navegación Aérea (Aena) selected this Spanish facility as the pioneering site for implementing the Ground-Based Augmentation System (GBAS). This groundbreaking system substantially improved landing accuracy by harmonizing GPS signals from satellites with data obtained from ground stations and multiple antennas within the airport. At that time, GBAS was only available at Houston and Newark airports in the United States and Bremen Airport in Germany. As a result, in 2014, Malaga became the first in Spain, second in Europe, and fourth in the world to embrace this transformative technology.
Malaga Airport to Resume New York Connection in Spring
After a record-breaking summer and an exceptional start to autumn, Málaga Airport will once again offer a direct connection to New York in the spring.
On another note, Ryanair has revealed that this winter, they will be expanding their services from Málaga to 77 cities, which is six more than the previous year. These new routes will include direct connections to Prague, Belfast, the German city of Bremen, and several locations in Poland.
Which country are you from?
In the first half of this year, the infrastructure in Malaga has recorded 10,070,112 passengers, which is 852,517 more than in 2019, the year with the highest traffic to date, and 1,904,106 more users than in the first half of 2022, according to Aena's data.
The United Kingdom remains at the forefront in terms of passenger volume, with more than 2.4 million, followed by Germany (703,698), the Netherlands (635,208), France (559,553), Italy (459,891), and Ireland (450,890).
The Best August in the History of Malaga Airport
In the heart of the Costa del Sol, a phenomenon is taking place – Malaga is hotter than ever! Forget about the hustle and bustle; let's dive into the remarkable journey of this vibrant destination.
Malaga Airport recently celebrated its most extraordinary August ever, with an astounding 2.4 million passengers gracing its terminals. This remarkable achievement marks an 18% increase compared to the previous year and nearly ten percentage points higher than the record-breaking year of 2019.
What's truly exhilarating is that Malaga now stands proudly as the fourth most important airport in Spain, trailing only Madrid, Barcelona, and Palma de Mallorca. Yet, the real magic lies in Malaga's rapid ascent to stardom.
This surge in popularity speaks volumes about Malaga's magnetic charm. Its sun-kissed Mediterranean climate, pristine beaches, and rich cultural heritage are captivating hearts worldwide. The international connections are buzzing with enthusiasm, led by the British, closely followed by our friends from Germany, France, Ireland, and Italy. Even Portugal and Morocco are part of the grand symphony, with significant increases in arrivals.
But the excitement doesn't stop there. Malaga's runways are a flurry of activity, witnessing an impressive 11.8% increase in takeoffs and landings compared to last August. This year, Malaga has seen a remarkable 107,945 landings and takeoffs, marking an 11.3% increase compared to the same period last year. Was your flight among those landings this summer?
Airport prank: strangers welcomed as stars
Imagine you are travelling to Malaga, Spain, for a holiday or a business trip. You arrive at the airport, collect your luggage, and walk towards the exit. Suddenly, you hear a loud cheer and see a crowd of people holding banners and flags. They are shouting your name and waving at you. You are confused and surprised. What is going on?
This is what happened to two unsuspecting travellers who landed at Malaga airport recently. They were greeted by a group of pranksters led by a famous content creator from Malaga. He and his friends had hired a bus to go to the airport and welcome random strangers as if they were celebrities.
The first one was a British man wearing a Boston Celtics shirt. The pranksters named him Spielberg, gave him a Malaga football shirt as a gift and asked him to sign autographs and kick a ball. The man was stunned but played along with the joke.
The second one was an Asian man who was called Xan Keete by the pranksters. He was also surrounded by the enthusiastic crowd who cheered for him and took selfies with him. He looked bewildered but amused by the situation.
The whole prank was recorded and posted on YouTube and TikTok by the content creator, who has more than 2 million followers on both platforms. The video has gone viral and has received thousands of likes and comments from people who found it hilarious and original.
What would you do if you were in their shoes? Would you enjoy the attention or feel embarrassed? Would you laugh or get angry?
Taxi drivers demand more security at Malaga airport
Taxis in Malaga have been asking for more security at the airport for years, where they face unfair and sometimes violent competition from unlicensed drivers. These drivers, who are not identified, labelled or licensed, wait for the arrival of flights to attract travellers who come to the city, pretending to be taxis. They often take advantage of the moments when the local police change shifts to offer their services.
The taxi drivers feel unprotected and helpless against this illegal activity, which not only harms their business, but also puts the safety of the passengers at risk. There have been cases of aggression, insults and threats between legal and illegal taxi drivers, and some of them have been reluctant to report them for fear of retaliation.
The situation could get worse in the coming months, due to the arrival of the high season and the increased frequency of flights landing in Malaga. That is why they have proposed the creation of a local police unit exclusively for the airport area, as well as a place for them to work. They also hope to get the support of all the political groups in the city council.
As travellers, we recommend you to be careful and avoid using pirate taxis or being deceived by fake transfer companies. These services are not only illegal, but also unsafe and unreliable. You could end up paying more than you expected, or being taken to a different destination than you requested. You could also expose yourself to scams, thefts or accidents.
The best way to ensure a safe and comfortable journey from or to the airport is to book in advance a transfer with total guarantee and totally legal from our Malaga airport transfers page. You will enjoy a professional service, with a fixed price, a qualified driver and a quality vehicle. You will also avoid queues, delays and hassles. Book now and enjoy your trip!
New Shuttle Bus Service from Alhaurín de la Torre
Man Jumps from Airport Bridge to Catch Flight to Morocco
The man wanted to catch his Morocco flight at Málaga Airport. He ignored staff and jumped from the bridge to the tarmac. The video shows him sitting and gesturing before jumping.The Civil Guard of Malaga has reported that the man was identified and fined for violating air safety laws.
New airlines in 2023
Play Airlines will connect Malaga airport with Reikiavik from May 2023 until the end of the summer.
Do you want to work at Malaga-Costa del Sol Airport?
Ryanair is looking for job applicants to work at Malaga-Costa del Sol airport, with a specific profile and who meet the following necessary requirements:
Be between 157 cm and 188 cm tall.
Ability to be able to swim 25 metres unaided.
Demonstrate your legal right to work throughout the European Union (without restrictions).
Be hard-working, flexible and have an outgoing and friendly personality.
Flexibility to work shifts.
Good customer service skills and the ability to provide excellent customer service.
Fluent in written and spoken English.
Passion for travelling and meeting new people.
The company offers the following to those who are accepted:
Variable contracts (fixed or temporary).
5 days on / 3 days off.
Dynamic, fun, exciting and challenging position.
Free cabin crew training course.
Career opportunities and fantastic destinations.
Greatly discounted staff rates and free uniform for the first year.
Highly competitive salary.
Are you interested in becoming a Ryanair Cabin Crew member? Then send them your CV and good luck: https://careers.ryanair.com/search/#job/262eb6
Torremolinos advertise at Malaga airport
Torremolinos is advertising as a tourist destination at Malaga airport for passengers arriving from Europe and United Kingdom during May, June and July.
They focus in encourage local tourism and to become the destination of choice for future trips.
Have you visited Torremolinos? 
Malaga airport recovers
Airlines are driving the rapid recovery of Malaga airport, one of the fastest recovering airports in Spain. The number of flights during the month of March is similar to what it was before the pandemic. This leads us to face the next summer session with optimism.
Among the airlines that are recovering the best is Ryanair; this airline has considerably increased the number of flights to the capital of the Costa del Sol.  Easyjet is also increasing the number of flights to Malaga, in what looks like to be one of the busiest summers on record.
The year 2019 broke all records. In 2022 it looks like we are returning to that level; it would not be unreasonable to think of surpassing it.
Lack of rental cars at the airport
The recent crisis in car manufacturing has not improved, so it is expected that rental companies will not be able to cope with the growing demand for the summer. Fortunately we are forward-thinking and have a large rental fleet.
The rental companies usually sell their cars every year and then replace them with new models. The problem is that the rentacars who have sold cars during the pandemic. They are finding that are unable to obtain new models from the dealers so they are already running out of cars.
Although we are relieved to have cars available for hire in Malaga, our clients should be proactive and hire well in advance. We can expect that the lack of cars in the sector will lead to higher prices at times of peak demand.
Important news for UK passengers
The British love to visit the Costa del Sol, so they should take into consideration the new passport control. This is compulsory for everyone due to Brexit and can cause delays, especially in high season.
We will arrange the return of your vehicle quickly so that you don't miss your flight; however you should be aware of the time you will have to spend at the airport control. We recommend that you arrive well in advance; it is better to wait at the airport near the gate than to miss your flight, something that has happened to short-sighted travellers during the Easter season.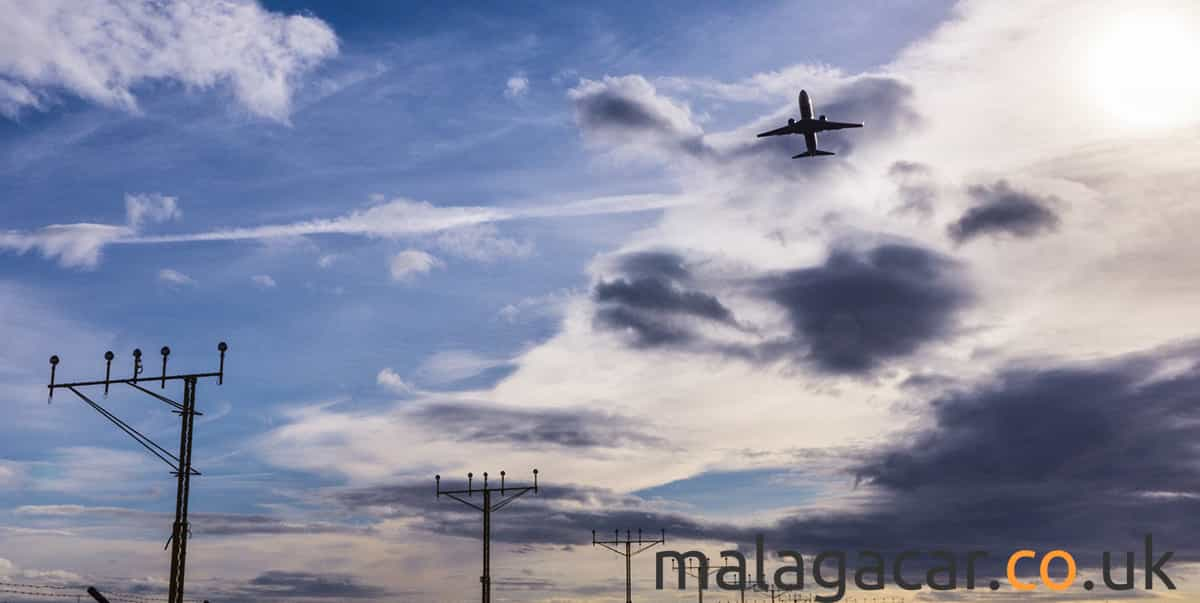 Easyjet reopens its base at the airport
The airline Easyjet is once again operating from Malaga airport with a large capacity. Copenhagen, Edinburgh and London-Southend will be the airline's main links with Malaga; it will also increase the number of planes from 3 to 5.
Easyjet recognise that Malaga is a priority destination within their global network, especially among UK travellers travelling to Malaga from London-Gatwick, London-Luton and Bristol.