Theluxury Marbella is the Costa del Sol's most famous resort and was one of Spain's first tourist destinations in the early 60´s. The city, once a humble fishing village, has a worldwide reputation for attracting la crème de la crème tourist and certainly many rich and famous visit throughout the year or have homes there.
The original town is based around a Moorish castle fortress. It has many attractive and typically Andalusian small streets centred around the Plaza de Los Naranjos. Since the 60´s the city has grown in all directions and has had a major facelift in recent years, the main results of which are large tree and plant-lined boulevards, and a much improved sea-front.
Marbella´s most exclusive areas are the Golden Mile between the city and Puerto Banús. This area is home to several top hotels and some of Europe's most expensive properties; Nagüeles and Urb. Sierra Blanca to the northwest of the city, and Hacienda Las Chapas and Los Monteros to the east.
Marbella has excellent well-maintained beaches with some of the best beach bars on the coast.
MARBELLA INFORMATION
Location | Sights | Festivities | Health Centres | Useful Information | Services | Property | San Pedro de Alcantara | Puerto Banus
Location
Is a marvellous city located in the heart of La Costa del Sol, which is its first reference. Cosmopolitan enclave if ever there was one, the city enjoys a special microclimate, with mild temperatures all year round, without harsh winters nor suffocating summers.
You can check the location of Marbella in a map here.
Sights
Amongst the numerous places that you should visit is Puerto Banús. This enclave with owes its name to its promoter, D. Jose Banus  is at six kilometres from Marbella´s town centre. Named "Centro de Interés Turístico" Nacional (Centre of National Tourist Interest), and awarded the "Medalla de Oro al Mérito Turístico" (The Gold Medal for Tourist Merit), it is visited annually by over four million people. It was inaugurated in 1971 and within its installations, it provides 915 mooring berths of between 8 and 50 metres in length, accommodating some of the most luxurious yachts in the world.
In the interior of the old quarter of the city there is a busy social life and it is possible to find a very particular atmosphere. There are numerous businesses of avant-garde style mix with historic remains, like the ones of the castle since the times of Arabic rule.
We also recommend to visit:
Museum of El Grabado Español Contemporáneo
Bonsai Museum
Ralli Museum
Cortijo Miraflores Museum
Roman town, with its thermal baths
Paleochristian Basílica of Vega del Mar
Church "La Iglesia Mayor Ntra. Sra. De la Encarnación"
Town hall
Shrine of Santiago, etc.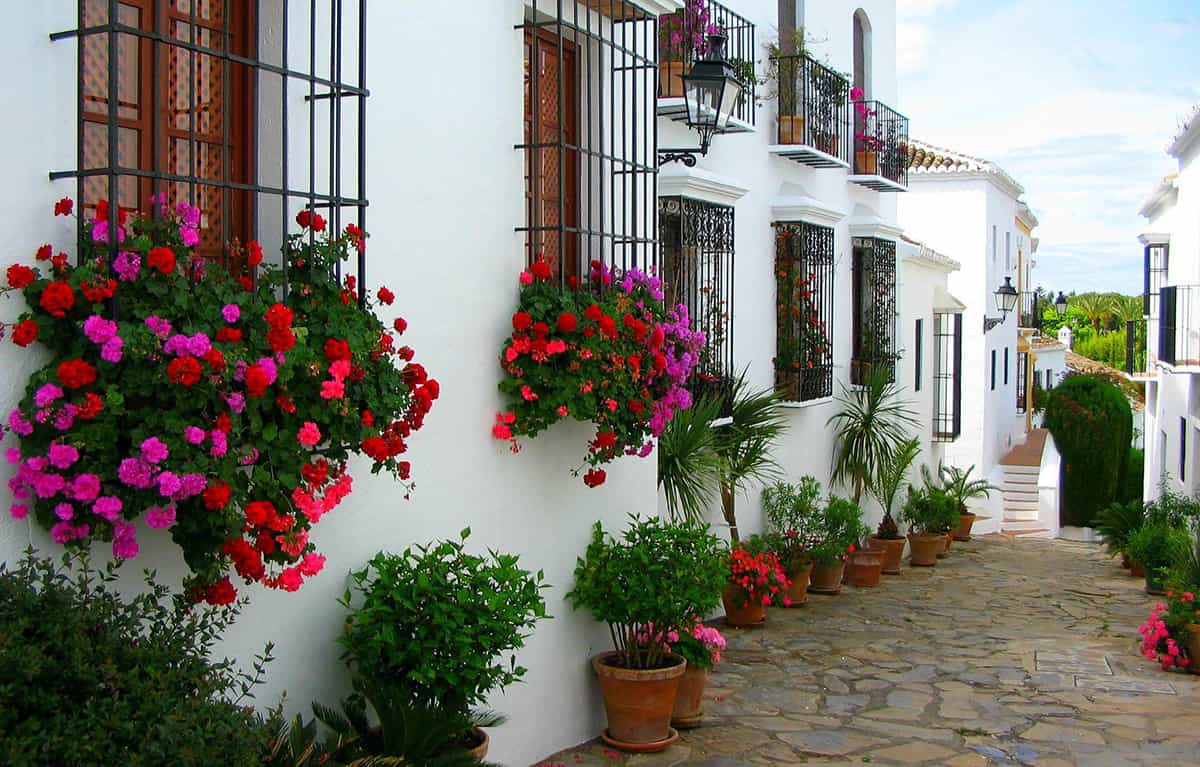 Festivities in Marbella
Amongst its traditional festivities, stand out the ones of the 11th of June, in honour of its Patron Saint, San Bernabé. Also the ones in honour of San Pedro de Alcántara, in mid- October. Amongst the romerias stand out the one held on the 3rd of May in honour of La Cruz de Juanar and the one in honour of San Bernabé, during the June festivities.
Furthermore, the feast day of "La Virgen del Carmen", on the 16th of July, maintains the seafaring flavour with its maritime procession. The gastronomic offer is infinite and it is highly recommendable to go for a pleasant walk through its streets; discover some of its countless restaurants and bars, from the most international and cosmopolitan to those with our traditional cuisine.
Useful Information
Local Holidays: San Bernabé on 11th June and San pedro on 19th October.
Distance from Malaga Airport: 55km
Town Hall 952-761-100
Local Police 952-899-900
Services
Marbella has generally excellent services and amenities. Shopping is good, although many of the shops in the town centre are for those with fat wallets only. More modest prices are in the smaller shops in the less-exclusive districts to the north or east and in La Cañada shopping centre, north of the A-7. Sports facilities are excellent.
Healt Centres in Marbella
Marbella has two public health centres and numerous private clinics and practices. The Western Costa del Sol's hospital lies to the east of the city and there's also a large private hospital in the centre.
Property
Marbella has some of the most expensive property in Spain. There's a buoyant property market in the city for both resale and new developments, and a range of property is available from an apartment in a more- Spanish district to a luxury residence in huge grounds.
Property rates in Marbella are the highest on the Costa del Sol and there's also a twice-yearly refuse collection tax, also extremely high.
In the mountains north of Marbella are several small villages; many of those vllages are popular among foreign residents and visitors seeking tranquillity and a more traditional residence, yet one that's still within easy reach of the services and amenities on the coast. The main villages are Benahavís, Istán, Monda and Ojén.
San Pedro de Alcantara
San Pedro de Alcántara lies to the best of Marbella. Although it belongs to Marbella it's really a town in its own right rather than an outlying district. The old town surrounds the attractive church square; there are many new developments to the south of the A-7 and to the north of the town, known as San Pedro norte.
This town is popular with foreign residents and has all the services and amenities you'd expect; including numerous shops, restaurants and bars, schools and sports facilities. English is widely spoken and in some parts of the town it is the only language you will hear.
San Pedro has an attractive sea-front walk with numerous beach bars. Beaches are generally good and well-maintained.
Nueva Alcántara, to the south of the town centre includes a port, residential blocks, Kings College, shops and businesses. The shopping centre, Alcántara Plaza due to open in 2005 will house a large supermarket and multi-screen cinema.
Useful Information
Local Holidays. San Bernabé on 11th June and the main Fair during the third week of October (19th is a holiday).
Distance from Malaga Airport: 63km.
Town Hall: 952 782 800
Local Police: 952-783-099
Property
Across the Verde River Bridge to the east of San Pedro lies Nueva Andalucia; Puerto Banús is to the south of the A-7. Nueva Andalucía is one of the Costa del Sol's largest urbanisations and is popular with foreign residents; particularly golfers and has many attractive developments with both apartment and villa accommodation. Many new developments are currently under construction, particularly to the north and east along the river. Services are concentrated mainly near the A-7 where there are schools, shops, a supermarket, banks, numerous restaurants and bars among other services. The area's health centre is found on the west side near the church. Local buses run to and from Marbella.
Puerto Banus
Puerto Banus is Spain's jet-set haunt par excellence, set against the magnificent backdrop of Sierra Blanca and home to one of the world's finest luxury marinas. The marina has berths for over 900 boats and depth for the world's largest private yachts. It's surrounded by attractive and luxury apartment blocks with a wealth of shops, mainly fashion including many top designer names, restaurants and bars. In summer Puerto Banus is the place to spot some famous faces abound.
Parking is available at several underground car parks and at the Corte Inglés during shopping hours . Parking in the port is for berth owners only.
Banús has good services including two shopping centres, a large Corte Inglés and multi-screen cinema. Buses run from Marbella and San Pedro. There are some beaches in Puerto Banus connecting to Marbella by an attractive promenade.
From the east of Puerto Banus to Marbella city centre is the Costa del Sol's most exclusive area known as the Golden Mile. Residences include huge luxury mansions such as the vast palatial residence belonging to King Fahd of Saudi Arabia, complete with mosque. Some of Marbella´s top hotels such as Marbella club and Puente Romano are also found along this stretch where green areas predominate. Development has been intense over the last few years and some feel some of its quintessential tranquillity and exclusiveness has been lost. Services in the area are mainly concentrated towards the east end. As you'd expect, property is very expensive with apartments starting at 500.000 and villas at well over one million.