With over 60 golf courses in Malaga, the Costa del Sol is also called Costa del Golf (The Golf Coast). The combination of quality courses with a pleasant climate all-year round has led to a boom in demand, particularly from Northern European golfers, who often escape to this area when rain or snow keeps them off their favourite home turfs.
Consequently, the Costa del Sol now rates as one of the best places in the world for golf tourism and in 2004 was voted the world's fourth-best golf destination by the International Association of Golf Tour Operators. Below is a directory of the main golf courses on the coast along with contact information.
Several golf courses are only for members, although there are increasing numbers of courses to play.
Best golf clubs in Malaga
If you like to play golf you may already know the Costa del Golf. Malaga is a paradise for those looking to practice this sport, not only for the quality of its golf courses but also for the amazing environments.
You can play golf in front of the sea and in natural surroundings where you can even see some animals walking around. Whether you are an advanced player or a beginner, you will find a golf club that fits you perfectly.
Below we bring you a list with some of the best golf courses in Malaga:
Golf in Malaga area
Club de Golf El Candado (N-340)
Urb. El Candado, El Palo
Malaga 29018
Malaga
Tel. 952 299 340
Fax 952 290 845
www.clubelcandado.comSituated in a small valley east of Malaga, El Candado Club is well-known amongst local professionals, as it was one of the first courses opened on the Costa del Sol. It is a fairly short course which runs 2,362 meters and has a rather difficult hilly design, with ample level differences and challenging greens. Sailing, windsurfing and other nautical activities may also be enjoyed on the neighboring marina.
Guadalhorce Club de Golf (N-340)
Ctra. Cartama, km 7
Apdo. Correos 48
Campanillas 29590
Malaga
Tel. 952 179 378/68
Fax 952 179 372
www.guadalhorce.comThe family atmosphere is one of this club's main characteristics and, in spite of its private nature, guests can reserve the facilities for weekday mornings. Guadalhorce has a first-class practice area with aids like simulated flags and calibrated distances, and includes approach greens, practice bunkers and putting greens. Apart from its challenging par-3 training run, there are two key divisions in the main course.Front 9 – English parkland style
no complications from vegetation or lakes, flora typical of non-irrigated land
fairways roll smoothly over small hills
expansive, quick greens
Back 9 – California variety
more variation with water hazards and semi-tropical vegetation
irregular terrain
elevated greens, mostly large and complex
The club house, a converted 18th-century country estate, boasts a wide range of features. Guadalhorce has hosted a number of regional and national competitions since its conception in the late 80's, and pros can often be spotted here.
Real Club de Campo de Malaga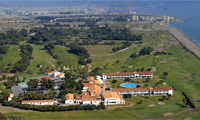 Real Club de Campo de Malaga
(El Parador)
Crta. Campo de Golf 1
29004 Guadalmar
Malaga
Tel. 952 376 677
Fax 952 376 612
www.rccm-golf.comThis course is full of history as this is where the pioneers of golf in Andalucia hit their first strokes. The oldest course on the Costa del Sol, El Parador was designed by Scottish architect Tom Simpson and opened by the Spanish royal family in 1925. It regularly hosts local & regional tourneys, and has also presented international cups such as the Turespaña Masters Open with the likes of Vijay Singh and Miguel Angel Jiménez.After almost seventy years of existence this course, as well as its installations and facilities, has been kept in top condition. It is situated only one kilometre from the international airport of Malaga and borders directly on the beach.
Golf in Antequera
Golf Antequera
About 3 km from downtown Antequera, this course is situated near El Torcal natural park, a unique landscape of limestone rock formations. During a round here golfers will be captivated by the perfume of rosemary, thyme and lavender planted around the course, and appreciate the variety of perennials: Holm oaks, fruit trees, mature olive trees and several classes of pine. Features of the club include an illuminated driving range, several lakes, and a consistently well-groomed course.
Golf Antequera S.L.
(Motorway Cordoba – Malaga)
Camino de Gandía
29200 Antequera, Malaga
Tel. 951 701 900/901
Fax 952 845 232
www.golfantequera.com
Golf in Alhaurin de la Torre
Alhaurín Golf Resort
This club can be found in Alhaurín El Grande nestled just behind the Mijas mountain range. Built around the original course designed by Severiano Ballesteros, it is particularly attractive because of its bright green fairways contrasted by the surrounding dark green vegetation. Its defining characteristic is its hilly design, as it is largely adapted to the natural mountainous setting. Alhaurin Golf has several 18-hole courses, a short 9-hole run, and top-class practice area including practice tees and chipping / putting greens.
Alhaurín Golf Hotel & resort (N-340)
Ctra. Fuengirola-Coín, km 15
Alhaurin el Grande 29120
Malaga
Tel. 952 595 800
Fax 952 594 195
www.alhauringolf.com
Lauro Golf
Located in Alhaurín de la Torre, Lauro Golf Resort is ideal both for accommodation and for a day of golf. Among the opinions from our clients, the friendliness of the staff and the location, very close to Malaga airport, stand out.
Golf in Benalmadena
Golf Torrequebrada
This masterpiece by beloved Malagueño designer José ("Pepe") Gancedo will leave any golfer wanting to play again and again. Since its formation in 1976 Golf Torrequebrada has hosted the Spanish Open and other headliner tourneys, as well as private group competitions. Not only memorable for its challenging hazards – water, bunkers, coastal winds and abundant semi-tropical vegetation – the course has superb views from its location between the mountains and sea near Benalmadena. Each of its 18 holes will put even the most seasoned golfer to the test. Those without enough energy afterwards for hitting the tennis or squash courts can enjoy relaxing in the sauna or pool.
Golf in Rincon de la Victoria
Añoreta Golf
Añoreta is uniquely located to the east of Malaga, away from the mainstay of the coast's courses. A turf to suit all players, it is demanding from the first tee and boasts some spectacular sea views, fast and rolling greens, bunkers and numerous water obstacles. The course was designed by José María Cañizares, of renown for the Spanish Ryder Cup.
Golf in Marbella
In the area of Marbella, San Pedro de Alcantara and Estepona we find a wide variety of golf courses and good opinions from our customers, so it will be difficult to choose one. Those visiting Malaga to play golf usually choose to stay in the Marbella and Estepona area, just a short drive from the airport.
Aloha Golf Club
This course designed by Javier Arana was opened in October 1975. It is considered instrumental in the development of Spanish golf courses, and has renown all through Costa del Sol.
Situated in the valley of Marbella, the so-called "Mecca of European Golf," Aloha is a natural course, where each hole is unique: stately trees in some fairways and fairly complex greens throughout.
Golf in Estepona
Campanario Club de Golf (N-340)
Ctra. N 340, km 168
29680 Estepona, Malaga
Tel. 952904233
http://elcampanarioresort.com/Location: https://goo.gl/maps/aDzR2nZVoJkVyhus9El Campanario is a 9-hole, par 3 course ideal for beginners as well as more experienced players. With an overall course length of 533 meters and Pitch and Putt tees on each hole, this course is great for improving your short game. It was designed by Manuel Piñero, a prominent Spanish golfer, and opened in 2003.
Club de Golf El Coto (N-340)
Urb. Coto La Serena
Ctra. Cádiz, km 163
Estepona 29680, Malaga
Tel. 952 804 700
Fax 952 804 708The quiet atmosphere of the Japanese-style gardens of Coto de la Serena is perfect for a relaxing round of golf. Pedro Morán designed the course which is located in a residential area between San Pedro Alcántara and Estepona. This 9-hole turf is divided by winding streams and demands accuracy off the tees, particularly on the par 3's which snake through lush vegetation.
Club de Golf Los Almendros
Club de Golf Los Almendros (N-340)
Ctra. De Genalguacil, km 3
Avda. Andalucía, El Cerrito L. A-1
Estepona 29680
Malaga
Tel. 952 113 327
Fax 952 113 551Situated in the valley near Benahavís and founded in 1999, Los Almendros was the first Pitch & Putt course in Andalucia. It is a 9-hole par 3 course, where club sets may be rented to facilitate play. There are practice areas for putting, pitching and driving, and individual and group classes are also available.
El Paraiso Club de Golf (N-340)
Ctra. Cádiz, km 167
Estepona 29680
Malaga
Tel. 952 883 835
Fax 952 885 827
www.elparaisogolfclub.comEl Paraiso (The Paradise) can easily give golfers the sensation of being on cloud nine with brilliant views of the coastline, mountains and the natural beauty of the course itself including lakes, streams, hundreds of trees and diverse vegetation. The course designed by Gary Player adapts to the hill on which it was built, sloping down to the sea through the Paraiso Valley. The heavy rough, which in many cases obscures streams, forms a real hazard while en route through the broad fairways.Since its opening in 1974, this club has been characterized by reasonable rates, regular competitions, and a hospitable attitude towards internationals and visitors, including a sort of overseas membership. Guests will enjoy the feel of the clubhouse, modelled after farmhouse-style casitas.
Estepona Golf
There is an etiquette for both men and women, so if you plan to book for a golf course here we recommend to check the requirements. There is a club and a restaurant so you can spend all the day playing golf in Estepona.
Golf in Manilva
People staying in Manilva are looking for a more quiet area on the western Costa del Sol. Manilva is also perfect for playing golf and you will find a popular golf course in the area:
La Duquesa Golf & Country Club
La Duquesa Golf & Country Club
Urb. El Hacho, N-340 km 143
Manilva 29692, Malaga
Tel. 952 890 725
Fax 952 893 005
www.golfladuquesa.comMaster architect Robert Trent Jones has created 18 holes of wide, intertwining fairways at La Duquesa Golf and Country Club. This combined with the spectacular landscape in the sunny and breezy Mediterranean will ensure that you enjoy your day.The second nine has some very technical holes such as the extraordinary Par-3 17th, which doesn't even have a fairway but rather a very high tee and a 108 meter run to the flag.