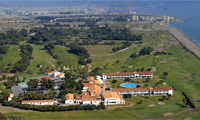 Real Club de Campo de Malaga
(El Parador)
Crta. Campo de Golf 1
29004 Guadalmar
Malaga
Tel. 952 376 677
Fax 952 376 612
www.rccm-golf.com
This course is full of history as this is where the pioneers of golf in Andalucia hit their first strokes. The oldest course on the Costa del Sol, El Parador was designed by Scottish architect Tom Simpson and opened by the Spanish royal family in 1925. It regularly hosts local & regional tourneys, and has also presented international cups such as the Turespaña Masters Open with the likes of Vijay Singh and Miguel Angel Jiménez.
After almost seventy years of existence this course, as well as its installations and facilities, has been kept in top condition. It is situated only one kilometre from the international airport of Malaga and borders directly on the beach.