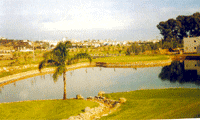 La Noria Golf and Resort (N-340)
El Llano de La Cala, La Cala de Mijas
Mijas Costa 29649
Malaga
Tel. 952 587 653
Fax 952 494 407
Opened in 2003, La Noria Golf & Resort is a 9-hole par-33 course characterized by its completely flat terrain. Nonetheless, it imparts a significant challenge due to several lakes and a creek that players must go around and over for the green shots. Throughout the course there are four bridges which tie together the greens, fairways and tee areas. Weekend enthusiasts and pros alike will appreciate La Noria, which lies in fertile lowland within a stone's-throw of the beautiful La Cala de Mijas beaches between Fuengirola and Marbella.